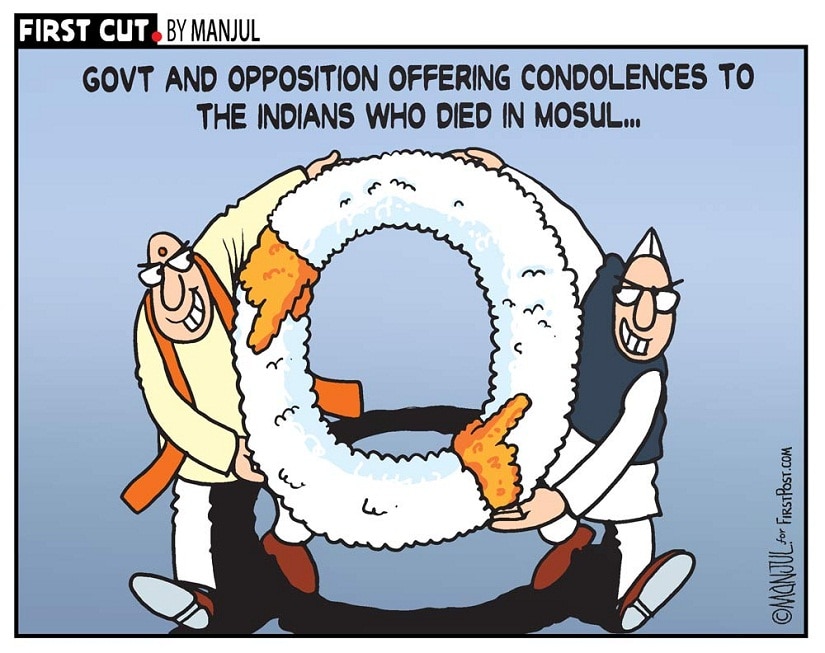 Indian Foreign Minister Sushma Swaraj has told Parliament that the 39 bodies found in a mass grave in Iraq are confirmed to be of workers abducted by the Islamic State in 2014.
DNA testing provided matches for 38 of the missing men while one was a 70 percent match, Swaraj said.
The government had for years insisted they were believed still alive and the latest announcement sparked criticism from some relatives of the dead.
The minister added: "General VK Singh, our ambassador Pradeep Rajput and an officer from the Iraq government together left for Badush... search operations led to a mound in Badush where locals said some bodies were buried by the ISIS". A special plane carrying the deceased will first fly to Amritsar and then to Patna and Kolkata.
A group of 40 Indian workers, mostly from Punjab, and some Bangladeshi were taken hostage by ISIS when it overran Iraq's second largest city Mosul in 2014. She said that the story of holding the 39 Indians for ransom was false. She said Masih could not give her a satisfactory answer when he was asked how he reached Erbil. "The government has misled the 39 families who lost their relatives", said Harjit Masih.
Khokhon Sikdar, a carpenter, went to Mosul to look for work at a time when the ISIS was taking apart Iraq one city after another.
According to NDTV, Harjit Masih, a labourer from Gurdaspur, who had managed to escape the abductors, had given a statement that the group was gunned down in the desert near Badush on June 15, 2014.
" In October a year ago, relatives of the eight Punjabi-origin people had visited the Government Medical College in Amritsar to provide DNA samples for matching with the Indians stuck in the war-torn country, if required". A majority of those dead are from Punjab with others from Himachal Pradesh, Bihar and Bengal.
Iraqi authorities used radar to establish that the mound was a mass grave, she said, and exhumed the bodies. "We demand that reports of the DNA test be given to us", said Malkit Ram, brother of a Saganandlal who was among the 39 Indians killed in Mosul.
The bodily remains were identified with the help of DNA samples of their family members.
The minister said she has directed the Indian envoy in Iraq to impress upon the Iraqi authorities to expedite the process to hand over the bodies to India.
Sushma said that Indian officials requested to remove the bodies from their Iraqi counterparts.
On criticism by opposition leaders and some family members of those killed that they got to know about death of their loved ones through television, Swaraj said she followed parliamentary procedures.