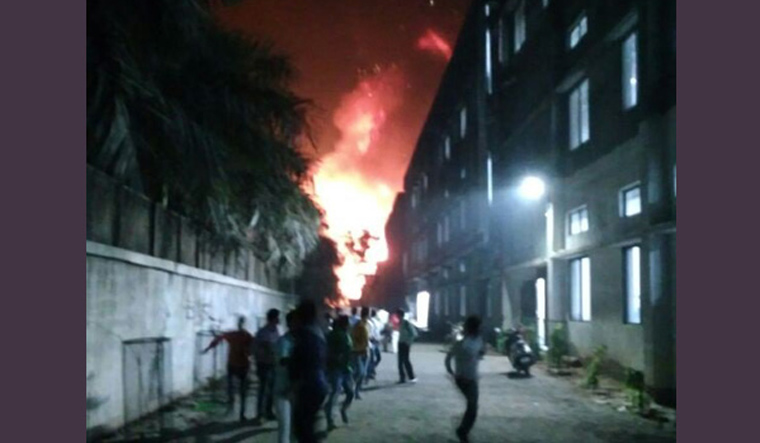 The fire has spread to six chemical factories nearby at Tarapur, Palghar.
The explosion happened around 11.15pm at Novaphene Specialities Pvt Ltd's plant where 25 drums containing 200 litres of solvent each were stocked in the open, Palghar district officials said.
The fire, which had spread to the other companies, has been brought under control and efforts are on to douse it, the officer said.
Fire tenders have reached the spot to carry out rescue operations.
The blast was so deafening that it was heard in a radius of 10 km.
However, scared and shaken by the explosion, many feared it was an quake and hundreds rushed out on to the streets and sat there. Manjunath Singhe, Palghar SP said that the number of casualties could up, adding that the search and rescue operation is now underway.
Those who were present at the scene said: the blasts were "sounding like a huge bomb".
The victims have been identified as Pintu K. Gautam, Janu Adaria and Alok Nath. All injured were shifted to a private hospital in Boisar, the officials informed. The blaze has reportedly engulfed two nearby factories, too. The site manufactures specialty chemicals and cosmetic preservatives dealing in high purity acid and acid anhydrides.
"A detailed probe about the causes of fire would be carried out", said Boisar MLA Vilas Tare.
Tarapur MIDC has around 1,100 chemical units which store hazardous and flammable chemicals.
Tarapur Atomic Power Station, which is also situated on Boisar-Tarapur Road is around 20 kilometres away from the spot, he added. Prima facie, it appears that the boiler blast in Novaphene occurred due to irregular storage of solvent, district collector Prashant Narnawre said.