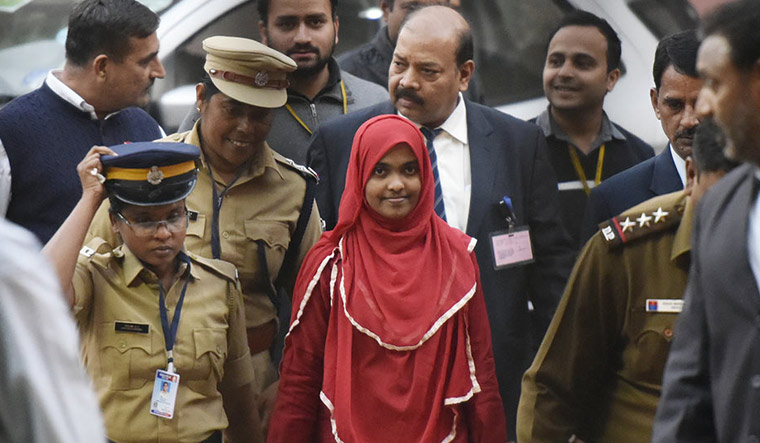 The Supreme Court on Thursday restored the marriage of Hadiya with Shafin Jahan, setting aside a Kerala High Court order annulling their wedding. The case was heard by a bench comprising of Chief Justice of India Dipak Misra.
Indeed, even the Supreme Court has said that while Hadiya's marriage is valid, the National Investigation Agency (NIA) can pursue to "its logical conclusion" its probe into the "love jihad" angle.
The matter had come to fore when Jahan had challenged the Kerala High Court's order annulling his marriage with Hadiya and sending her to her parents' custody. The top court had in November 2017 freed Hadiya from her parents and sent her to persue her studies.
K M Asokan, father of alleged love jihad victim Hadiya, after the judgement said he would consider moving a review petition in the top court against its verdict.
The case saw a major twist in December 2016 when Hadiya told the Kerala High Court that she had married Shefin Jahan on December 19, 2016.
In its judgment on Thursday, the Supreme Court said the NIA could continue its probe into alleged "forced conversions" of young women, but it asked the agency not to probe Hadiya's marriage. This is a case where the Kerala HC had decided that a 24-year-old woman was "weak" and "vulnerable" because she didn't excel in academics. Hadiya (also known as Akhila) was completely brainwashed. Moreover a marriage between two consenting adults can not be interfered with the SC also observed.
Hadiya last month filed an affidavit in the Supreme Court saying that she wants to live her as a Muslim. But when she was produced at the court, she was married. Her father KM Ashokan had opposed her marriage.
Two days after her wedding, she appeared in court with her husband, but the court "expressed its dissatisfaction over the marriage and directed her to go back to the hostel". "Nothing remained for the court to decide after she expressed her will", an apex court bench said.