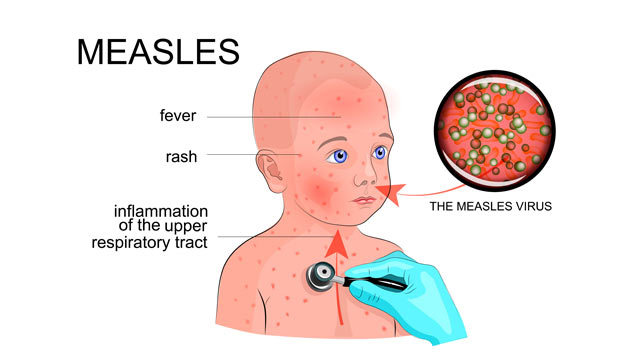 Europe saw a 400-percent increase in measles cases in 2017 compared to the previous year, affecting more than 21,000 people and causing 35 deaths, the World Health Organization (WHO)'s regional office for Europe said in a press release Monday.
Romania recorded Europe's highest number of cases of measles in 2017: 5562, of which 35 were fatal.
World Health Organization says Ireland has a population of 4 749 153 and had an incident rate of 4.4 per one million of population in 2017, meaning there were 21 nationally past year, according to its figures.
"Over 20,000 cases of measles, and 35 lives lost in 2017 alone, are a tragedy we simply can not accept", she said.
Romania ranked first with 5,562 reported cases, followed by Italy with 5,006 and Ukraine with 4,767.
These countries have witnessed declines in overall immunisation coverage - for some marginalised groups this coverage has been consistently low - interruptions in the supply of vaccines or underperforming disease surveillance systems.
The biggest outbreaks recorded a year ago were in Romania and Italy.
In response to the burgeoning outbreak in Italy a year ago, the country made vaccines mandatory for measles and a number of other diseases for school children.
People who remain unvaccinated contribute to measles rates not only by exposing themselves but also by exposing others.
That was controversial and sparked protest.
That's because most people will be immunised against the disease, having been given the vaccine as a child.
Ireland's level of confirmed cases is low compared to countries like Greece (967), Germany (927), France (520), Belgium (369), the United Kingdom (282), and Spain (152).
Measles is highly contagious disease that can be prevented by having the vaccination, offered by the NHS as a single measles, mumps and rubella jab. A Region-wide midterm EVAP progress report will be presented at the 68th session of the WHO Regional Committee for Europe in September 2018.
The number of cases has been rising since the beginning of January.
Patients with measles have symptoms such as fever, cough and runny nose at the onset, according to the CDC.
The rash looks like small, red-brown blotches and can make a person feel very unwell.