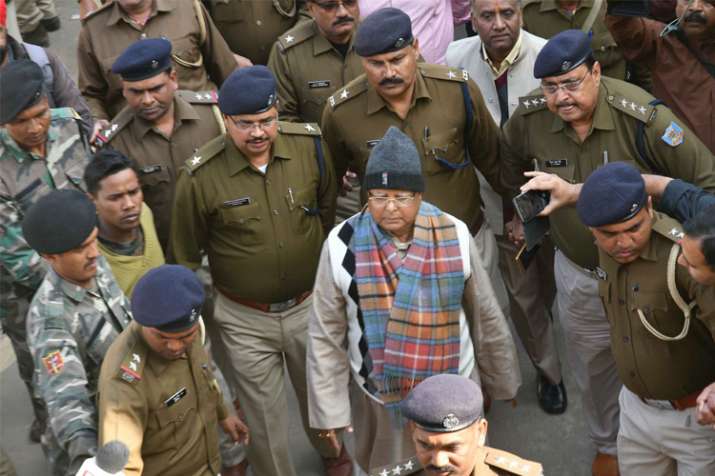 As per the media reports a special CBI court formed to investigate Rs 950 crores fodder scam against former Bihar Chief Minister and chief of Rashtriya Janata Dal (RJD) Lalu Prasad Yadav, on Saturday handed a jail term of 3.5 years and imposed a fine of Rs 5 lakhs.
He was fined Rs 5 lakh for each case, failing which he would serve another six months in jail, a CBI counsel said. "It is clear that the BJP-RSS combine is scared of Lalu even while he is in jail and is doing all that it can to silence Lalu's voice", said Tejashwi, while addressing a press conference.
He also added that they will approach the High Court for bail.
The verdict on Saturday came after two postponements of the pronouncement of the quantum of punishment after the court found the RJD chief guilty in December past year.
The CBI court had acquitted another former Bihar Chief Minister Jagannath Mishra and five others in the case, relating to the fraudulent withdrawal of Rs 84.5 lakh from the Deoghar District Treasury between 1990 and 1994.
On Friday, citing illness and old age, Lalu had sought leniency from the court. He was sent to Birsa Munda Jail in Ranchi.
Reacting to the verdict, the BJP and its ally JD (U) said no one was above the law while the RJD claimed its leader fell prey to a "conspiracy" by Bihar Chief Minister Nitish Kumar and the saffron party. The Special CBI Court was supposed to sentence the convicts on January 3.
In the fodder scam case, out of 22 accused, 16 were convicted.
A total of six cases related to the scam, were being probed by the investigation authorities.