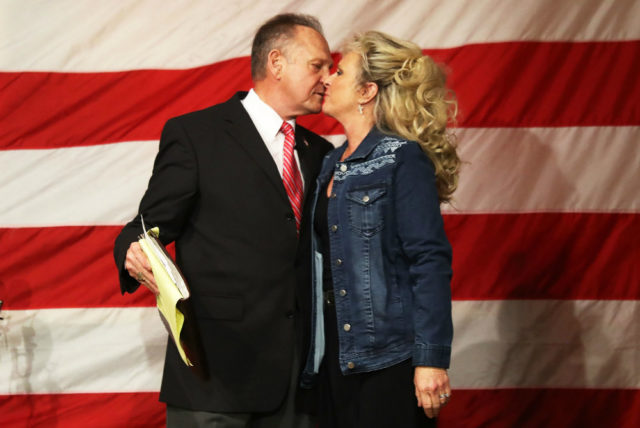 Leigh Corfman, one of several woman to accuse U.S. Senate candidate Roy Moore of sexual misconduct in November, is suing him for defamation, The Washington Post reported on Thursday.
Moore, who lost the U.S. Senate race to Democrat Doug Jones in a stunning upset last month, firmly denied Corfman's and others' accusations. She instead seeks " a declaratory judgment of defamation, a public apology from Moore, and a court-enforced ban on him or his campaign publicly attacking her again", the Post reports.
Moore claimed Corfman's allegations were "politically motivated", "completely false", and "malicious".
A phone message left by AL.com at the office of Moore attorney Trent Garmon was not immediately returned Thursday.
The lawsuit suggests that Moore's polygraph affidavit - basically a sworn statement - could be perjury.
The lawsuit also pointed to the legal filing by Moore and his campaign on December 27, 2017 that was an effort to stop the election results from being certified by the state of Alabama. This includes Moore's defense that he never knew or met Corfman. The suit also asks for "further relief as permitted by law and as the court deems appropriate".
"Mr. Moore's continued attacks against Ms. Corfman after the election and the content of his affidavit demonstrate that if not enjoined, he will continue to defame Ms. Corfman, if simply for the objective of furthering his political goals", Corfman's attorney wrote in the lawsuit.
Corfman and her mother have said that Moore first approached her as she waited outside a custody hearing at the Etowah County courthouse.
Leigh Corfman, who accused former Alabama Senate candidate Roy Moore of sexual misconduct, is suing him for defamation.
.
The lawsuit outlines 11 instances in which Moore publicly denied Corfman's allegations or denied knowing her altogether. Wearing only undershorts, Mr. Moore touched Ms. Corfman's private parts through her bra and underpants and guided her hand to touch his penis. Corfman seeks no financial compensation besides her legal expenses, her attorney, Neil Roman, told the paper.
Those five individuals associated with the campaign: Manager Rich Hobson, Chairman Bill Armistead, attorney Benjamin Dupre, spokeswoman Janet Porter and strategist Dean Young.