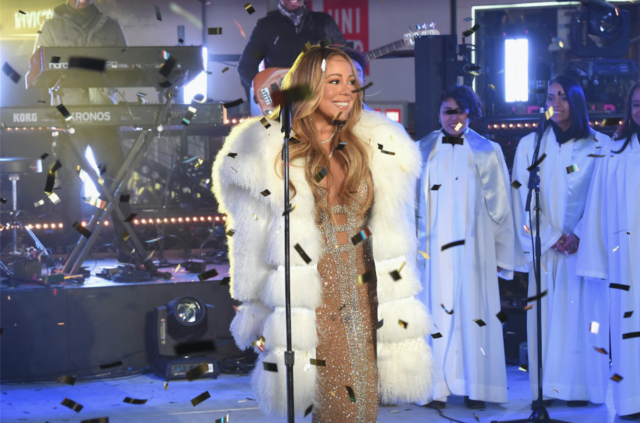 They told me there would be tea. Oh!
Extremely pleased with Mariah's performance, a slew of Twitter users congratulated the songstress for a job well done.
"They told me there would be tea", Carey said.
"OK, well, we'll just have to rough it", she continued. Compared to last year, though, it was pretty tiresome, and it was a lot less singular: Minus the redemption story line, Carey's performance was in line with those by the numerous other acts who appeared on "New Year's Rockin' Eve", none memorable enough to mention here.
If you're unaware or don't remember, there were numerous technical glitches and errors during Mariah's NYE performance past year, making the situation so bad that Carey stopped singing, and stood awkwardly on stage as the background track played before she stormed off stage. Rather than fake her way through a few songs as she'd evidently intended, the singer wandered around the small stage, complaining about her monitors as prerecorded vocals played over the sound system.
After opening the show with her 1990 hit song Vision of Love, she paused to ask for the hot drink she was promised.
From NYE last year's performance; she had technical difficulties during a live performance.
"The Diva gets what the Diva wants!" one person wrote while another said: "Who dared to forget your tea ☕️?"
"Found my tea!", she captioned the post, still wearing the furry white coat she sported during the performance. She finally got her hot tea.
"She redeemed herself", the insider says.
One thing that wasn't missing: Carey's boyfriend, Bryan Tanaka.
Mariah Carey performs on "Dick Clark's New Year's Rockin" Eve' at Times Square in New York City on December 31, 2017.