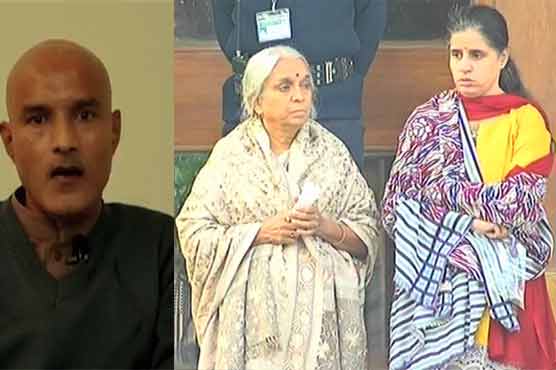 Jadhav met his wife and mother at the Pakistan Foreign Affairs Ministry in Islamabad for around 40 minutes, but interacted through a glass panel and intercom.
TV footage showed Jadhav's mother Avanti and wife Chetankul entering the ministry building's Agha Shahi Block, accompanied by India's deputy high commissioner JP Singh and a Pakistani woman official. "Pakistan permits the meeting of wife and mother of Commander Jadhav with him, as a humanitarian gesture, on the birthday of the Father of the nation, Quaid-e-Azam Muhammad Ali Jinnah", Foreign Ministry spokesman Mohammad Faisal tweeted.
He added that media crews will be able to cover the arrival and departure of Jadhav's wife and mother at the ministry and Pakistan has agreed to honor India's request not to allow any media interaction with the visitors, the official added.
Pakistan, which turned the meeting into a media spectacle in a desperate bid to improve its image on the global arena, could not find courage to allow Kulbhushan to meet his family in private or even touch or hug each other. Speaking to ANI, Major General (retired) GD Bakshi said, "Today the spokesperson of Pakistan's foreign ministry was acting like he is the reincarnation of Mother Teresa. We are just waiting to see them, so that we will feel the same joy that they felt while meeting him". "We will decide about it in due course", foreign office spokesperson said.
Pakistani Army's troops, Quick Respond Force and personnel of intelligence agencies were also deployed along with route from BBIIAP to Foreign Office. The mother and wife of Jadhav were being provided with a meeting with him in the light of "Islamic traditions and based on purely humanitarian grounds", Faisal had said.
A copy of the medical report presented by the FO spokesperson.
In India, officials downplayed the comments, maintaining that the Indian diplomat was only accompanying Jadhav's family and it can not be construed as "consular access". In a crumpled blue blazer, with injury marks visible on his left ear - telltale signs of torture - 47-year-old Jadhav appeared remarkably composed.
Faisal said the gesture to the family was not aimed at influencing the case the two countries are fighting at the International Court of Justice on the issuance of consular access. These were the first visuals of the Indian held in a Pakistan jail.
India maintains that Jadhav was kidnapped from Iran where he had business interests after retiring from the Indian Navy. The wife and mother will be at Delhi for a de-briefing before they return home.