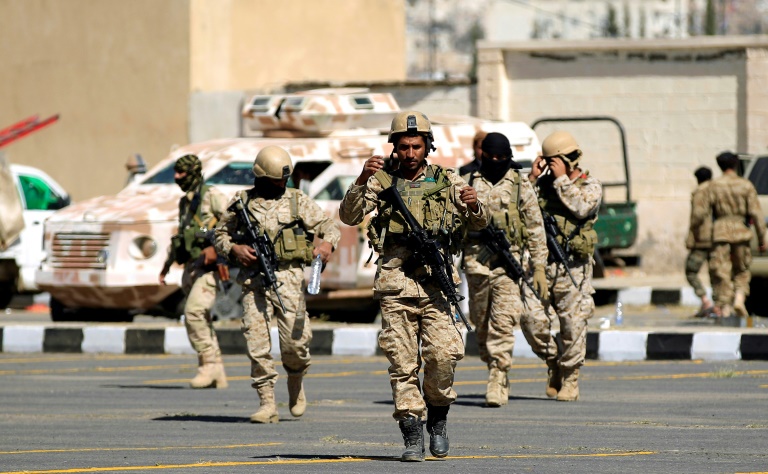 It was a grisly end for a figure who was able to rule the impoverished and unstable country for more than three decades and remained a powerhouse even after he was ousted in a 2011 Arab Spring uprising.
This rebel alliance splintered last week, setting off heavy clashes between the Houthis and Saleh's forces. He was killed during the.
In 2015, Saudi Arabia and its Arab allies launched a massive air campaign aimed at reversing Houthi military gains and shoring up Yemen's embattled government.
Houthi went on to blast Saleh for betraying the loyalty of those he had worked with and claimed the ordinary people of the capital could not understand how he had changed sides after three years of denouncing the Saudi-led coalition.
But they vied for supremacy over the territory they ran together, including Sanaa, which the Houthis seized in September 2014, and their feud burst into open combat on Wednesday.
As news broke of Saleh's death on Monday, the United Nations humanitarian coordinator for Yemen, Jamie McGoldrick, called for a pause in the fighting in Sanaa, noting that dozens of people had reportedly been killed and hundreds injured, including civilians.
In this January 3, 2017 file photo, tribesmen loyal to Houthi rebels chant slogans during a gathering aimed at mobilizing more fighters into battlefronts to fight pro-government forces.
Sources in the Houthi group said fighters stopped Saleh's armoured vehicle with a rocket-propelled grenade-launcher as he was fleeing the capital, and then shot him dead.
Residents in Sanaa told Reuters that Houthi fighters blew up Saleh's house in the center of the city. This week's fighting reportedly left aid workers trapped inside a building and unable to administer support to civilians. He remained in the country, however, and continued to wield political power from behind the scenes.
A mortar shell also struck the Sana'a International Airport today amid increasing clashes between the Houthis and Saleh loyalists.
Ali Abdullah Saleh was sworn in as Yemen's President in 1990 following the merger of North and South Yemen.
"They stormed the TV channel and Al Yemen Al Youm newspaper headquarters and arrested some of my colleagues and started storming our residences", Al Yarrisi said.
"The decision by (Saleh's) General People's Congress to take the lead and their choice to side with their people will free Yemen of ... militias loyal to Iran", the coalition said in a statement carried by the official Saudi Press Agency.
Until recently, Saleh and the Houthis had been allies battling to regain control of the country from the internationally backed government of Abd Rabbuh Mansur Hadi. In that critical moment I and my colleagues headed to evacuate our families from Hadah.