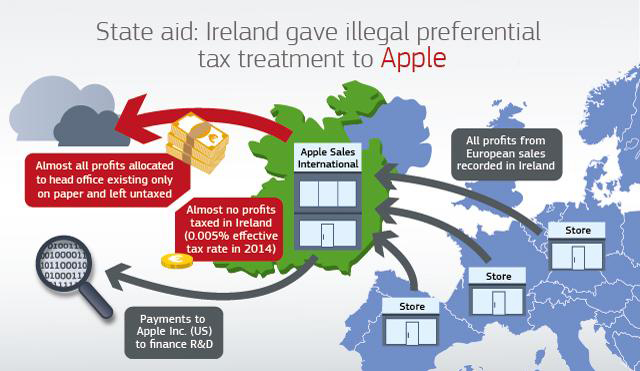 Ireland has struck a deal with Apple to collect up to €13bn (£11.45bn, $15bn) in back taxes and hold it in an escrow account, pending an appeal before the Court of Justice of the European Union. It has taken just over a year, but Apple and Ireland have finally reached an agreement to start collecting the money and placing it into an escrow account.
Ireland has allowed Apple to pay lower tax rates than other EU nations since the early 1990s, but the European Commission ruled in August 2016 that Ireland's practice was illegal and that Apple must pay the rest of the money it should have been taxed.
European Commissioner Margerthe Vestager ruled that Apple was receiving illegal state aid from 2003 to 2014.
Starting next year, will have to start paying Ireland back billions of back taxes.
For several years, Apple has only been paying one per cent on corporation tax in Ireland, but this was due to an agreement between the firm and the country.
Paschal Donohoe, Ireland's finance minister, said that Apple is expected to begin funnelling money into the fund during the first quarter of 2018.
Both the Irish Government and Apple have appealed the Commission's ruling.
The Irish Finance Ministry said: "These sums will be placed into an escrow fund with the proceeds being released only when there has been a final determination in the European Courts over the validity of the Commission's Decision".
KitGuru Says: Apple may start setting the money for this aside soon, but it seems clear that it still wants to get out of it.
Apple believes that the ruling will be overturned in time and that it's acted in accordance with the law.