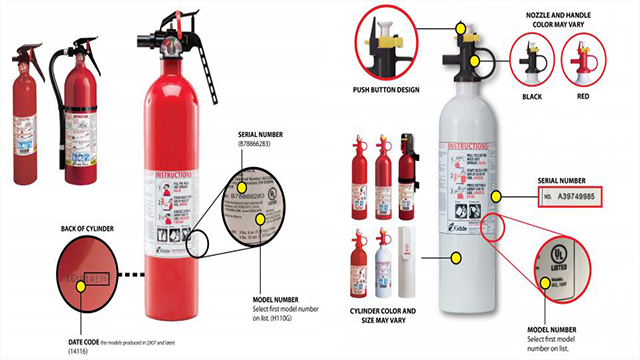 These have plastic handles or were the push-button Pindicator models.
The fire extinguishers date back to 1973.
"In addition, the nozzle can detach with enough force to pose an impact hazard", Kidde said in a press release.
One death and 16 injuries have already been linked to problems with the extinguishers made by Kidde, a notice from the US Consumer Product Safety Commission (CPSC) said on Thursday (2 November).
The recall covers 134 models of push-button and plastic-handle extinguishers made from 1973 through August 15 of this year.
The recalled extinguishers were sold at Sears, The Home Depot, Walmart and Amazon.
The Consumer Product Safety Commission says 37.8 million Kidde fire extinguishers are being recalled.
This comes three years after a auto fire that turned fatal after a Kidde fire extinguisher failed to work.
Also included in this recall are the 4.6 million fire extinguishers recalled in 2015 after 11 reports of the devices failing to discharge fully and the 167,000 recalled in 2009 recalled when the pressurized cylinder could lose pressure.
According to Kidde, emergency responders couldn't get the recalled extinguisher to work.
A faulty Kidde extinguisher may have played a role in the death of 22-year-old Brendan Rosko in a vehicle wreck in Pennsylvania in August 2014.
The extinguishers were sold in red, white and silver colors.
Kidde will replace the fire extinguisher. The model numbers are printed on the body of the fire extinguisher (see photos above and below).
Customers can contact Kidde for a free replacement and instructions on how to return recalled models.