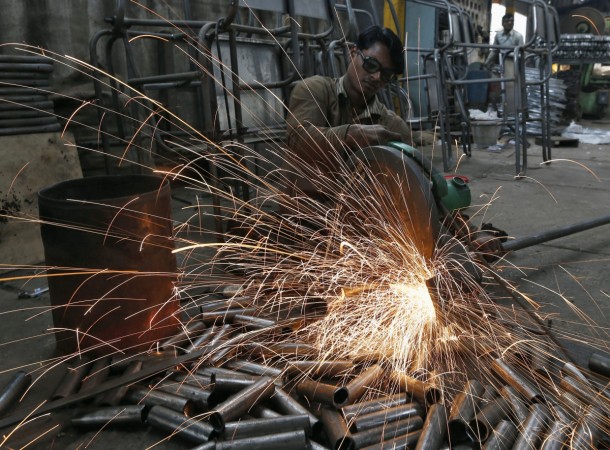 "Input prices increased to their highest level for 7 months as commodity prices rose and intense competition for raw materials also had a cost impact".
The manufacturing sector performed better in October than expected, further increasing the likelihood of the Bank of England raising interest rates on Thursday.
IHS Markit's manufacturing sector PMI for October printed at 54.6 for October, versus a reading of 53.1 for September, marking a small upwards revision from the original estimate of 54.5.
On the price front, input cost pressure rose at the fastest pace since May.
The pace of United Kingdom manufacturing activity rose in October, making a positive start to the fourth-quarter industrial outlook, but price pressures remained as input costs continued to rise.
A private survey on Wednesday showed that the Nikkei Manufacturing Purchasing Managers' Index (PMI), compiled by IHS Markit, fell to 50.3 last month from September's 51.2 - its third month above the 50 mark that distinguishes growth from contraction, Reuters reported.
The report said the United Kingdom domestic market was the prime source of new manufacturing orders.
The Vietnamese manufacturing sector paused for breath in October, with output rising only marginally during the month.
Manufacturers increased their purchasing activity at a solid pace, although it was weaker than the previous month.
"Production volumes jumped higher on the back of a substantial improvement in order book inflows, in part due to supply chains returning to normal after the hurricanes but also reflecting a combination of strong underlying demand", IHS Markit Chief Business Economist Chris Williamson said. Foreign demand contracted at the fastest pace since September 2013.
He said the pickup in the new orders index "points to scope for the output index, which held steady at 56.6 in October, to rise a little over coming months", though small drops in the future activity and quantity of purchases indices "suggest that manufacturers are preparing for demand to weaken a little, perhaps in response to higher interest rates".
"Business confidence eased to the weakest since February as some firms expressed concerns over negative GST effects", Dodhia said.
Firms remained optimistic that output will rise over the coming 12 months, linked to predictions of improving market demand and meeting of company targets.