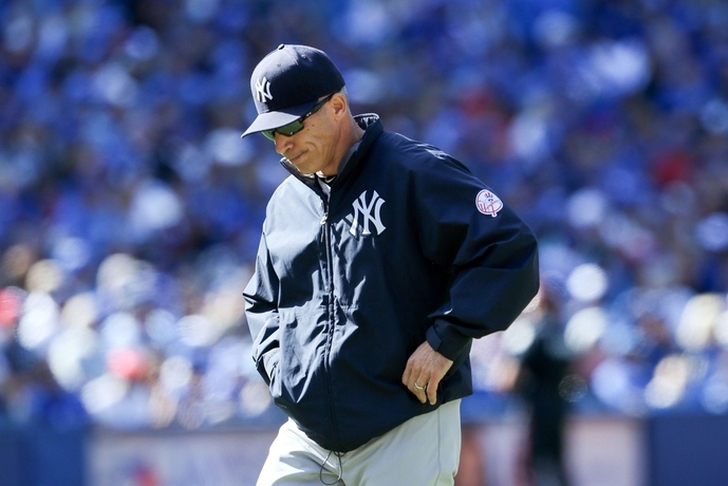 Joe Girardi is out as the manager of the New York Yankees after 10 years in the Bronx, according to multiple reports.
Joe Girardi and the Yankees have parted ways. Yankees general manager Brian Cashman followed with his own statement confirming that it was the team's decision to "pursue alternatives for the managerial position".
A three-time World Series champion as a player with the Yankees, Girardi succeeded Joe Torre as manager after the 2007 season and led NY to its 27th World Series title in 2009 but has fallen short each year since.
Girardi, 53, leaves the Bombers with a 910-710 managerial record since 2008. His win total ranks sixth in franchise history, trailing only Joe McCarthy (1,460), Joe Torre (1,173), Casey Stengel (1,149), Miller Huggins (1,067) and Ralph Houk (944).
"Finally, I'd like to thank the Fans for their great support as a Player, Coach and Manager and the lasting memories of their passion and excitement during the Playoff Games, especially the final six games which will remain in my heart forever", Girardi wrote. I would like to thanks Ben Tuliebitz for making our travel easy and always taking care of our families.
As for the Yankees, there is no clear candidate in line to take over as manager, and candidates both inside and outside the organization are expected to be considered for the role.
"I love what I do". "They come first. Because I think when you have a job, your family has to buy in, too". And then we'll see what the Yankees are thinking.
The Yankees could look for Girardi's replacement internally. Girardi's bench coach, Rob Thomson, is well thought of in the organisation but might not be the kind of high-profile name the organisation might want.
There appear to be no clear candidates internally to replace Girardi, although first-base coach Tony Pena had Major League Baseball managing experience.