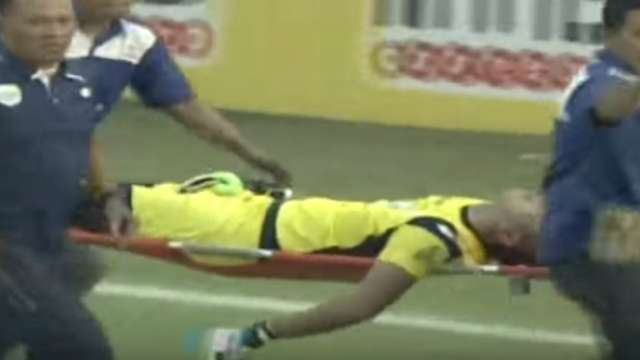 Veteran Indonesian goalkeeper Choirul Huda tragically died after colliding with one of his teammates during a league match on Saturday.
The 38-year-old Choirul collided with Ramon Rodriguez's knee when he made an attempt to collect the ball in the closing moments of the first half.
The goalkeeper immediately clutched his face around the jaw area in agony after the collision and was later rushed to a nearby hospital. He then fell unconscious and was rushed to Regional General Hospital in Lamongan, where he passed away.
Our thoughts and prayers go out to all of Choirul Huda's family, friends, teammates, and loved ones.
He was stretchered off and taken from the ground in an ambulance, receiving treatment from doctors who at that point began to suspect that the keeper had suffered major trauma.
Dr Zaki Mubarok said that Huda died as result of head and neck trauma.
Lamongan-born Huda played for his hometown club his entire career, making his senior debut in 1999 and playing more than 500 times in the league.
Dr Nugroho said the collision meant Huda was unable to breathe, causing a cardiac arrest.
On Instagram, the club published a post that thanked fans "for the endless dedication and inspiration for Persela, Lamongan and Indonesian soccer".
Huda is a club legend.