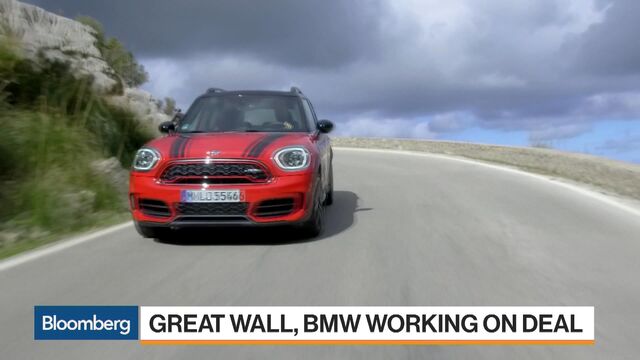 BMW AG (BMW.XE) plans to diversify partnerships to grow its Mini brand in China, the company said following reports that it was in talks with Chinese auto maker Great Wall Motor Co.
"It is only possible to accelerate growth of Mini in China with a local partner", BMW said.
BMW AG is working on a deal that will bring manufacturing of the iconic Mini brand to China for the first time, according to people with knowledge of the plan.
Great Wall's shares had surged 14 percent on Wednesday and were later suspended after Reuters reported that it was discussing a joint venture with the German premium manufacturer, focused on electric vehicles.
"If an agreement were to be reached, we'd expect an arrangement like Denza (Mercedes-BYD), or VW-JAC, Ford-Zotye to be the most plausible outcome, whereby a new brand is used to sell EVs", they said in a note, adding that the vehicles could be sold under the Mini brand. The new partnership would be the second car-making venture for BMW in China, following its older joint venture with Brilliance China Automotive Holdings Ltd., based in the northeastern city of Shenyang. Spokespeople from BMW and Great Wall declined to comment on the matter, with the latter saying that the company will issue a statement later. Trading in the stock will resume on Monday, the company said. Unfortunately, no official confirmed the news when reached out to for comments and it remains to be seen if this report holds any water or not.
Patrick Yuan, an analyst at Jefferies Hong Kong, said it is understandable that BMW needs a new partner to defend its market share in a more competitive market.