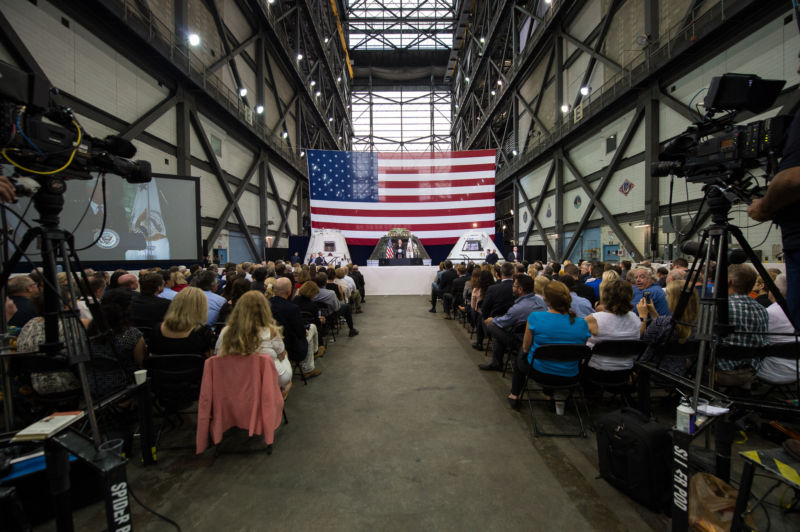 WASHINGTON (AP) _ Trump administration officials are pledging to send Americans back to the moon _ and then on to Mars.
Space industry leaders said they and NASA are building the spaceships to get there. In recent years NASA has talked about sending humans to a space station near the Moon but not landing astronauts there.
The announcement joins the revival of the National Space Council, a special Trump administration resurrection slated to hold its first meeting in nearly a quarter of a century.
'Rather than competing with other nations to create the best space technology, the previous administration chose capitulation, ' Pence said, in a direct jab at Barack Obama.
The National Space Council met Thursday for the first time in 25 years in an effort to return the United States to the forefront of space exploration.
And the moon 'will be a stepping-stone, a training ground, ' he said, on the way to Mars.
"We will return American astronauts to the moon, not only to leave behind footprints and flags, but to build the foundations we need to send Americans to Mars and beyond", he said to massive applause.
The primacy of these stated goals was reflected in the makeup of the panelists at today's meeting, which was held at the Smithsonian National Air and Space Museum's Steven F. Udvar-Hazy Center in Chantilly, Virginia. Mars may be a medium-to-long-term goal, but NASA should use the moon as a jumping-off point.
The council will hear testimonial from expert witnesses who represent the sectors of the space industry: Civil Space, Commercial Space, and National Security Space. Blue Origin rocket company chief executive officer Bob Smith said his firm could have a lunar lander program ready within five years. "We may not start it but we will finish it". "And we will once again astonish the world as we boldly go to meet our future in the skies and in the stars". "America seems to have lost our edge in space", said Pence, "and those days are over".
"America must be as dominant in space as we are here on earth", Pence said. The third panel focused on national security and featured retired Navy Adm. James Ellis, the former chief of U.S. Strategic Command; former NASA astronaut and former DARPA (Defense Advanced Research Projects Agency) Deputy Director Pamela Melroy; and former NASA Administrator Michael Griffin.