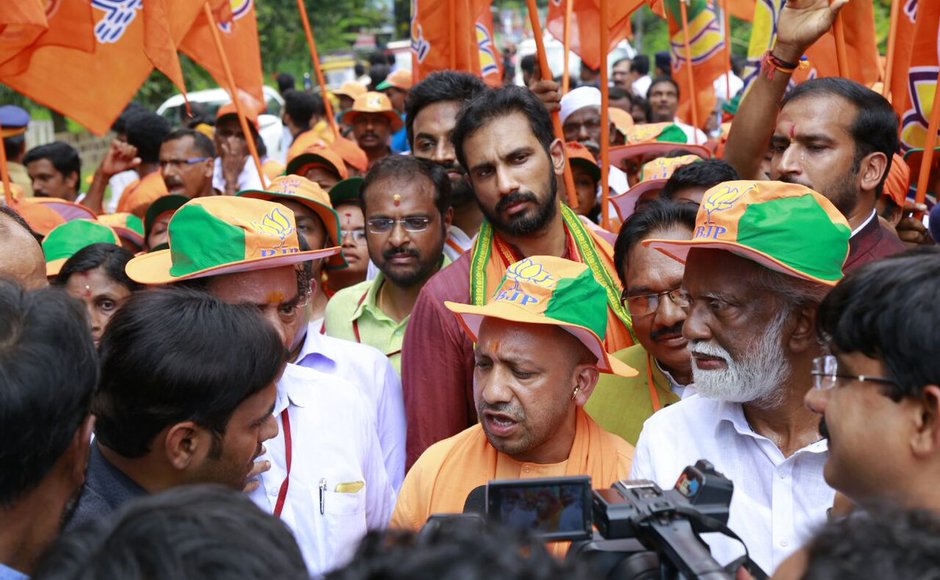 Referring to the alleged murders of BJP and RSS cadres in Kannur and other parts of Kerala by CPI-M workers, Yogi backfired at CM Pinarayi Vijayan and the Left, terming the murders to be "politically motivated killings".
Sat Sharma, while addressing, criticised Kerala Government for its indifference towards ever increasing number of attacks on activists and their families affiliated with BJP and RSS. This especially so after he pulled out of the Yatra's Kannur leg on October 5 when he was supposed to lead the walk through Pinarayi, the home turf of Kerala chief minister Pinarayi Vijayan.
The BJP national president alleged almost 120 BJP workers, 84 in Kannur alone, were killed in Kerala since 2001 with 14 of them in Chief Minister Vijayan's home town since he took the reins past year.
While in Kerala, the BJP supporters made desperate attempts to portray the BJP chief's road show as a huge success.
Prime Minister Narendra Modi hosted a top-level meeting at his residence on Thursday afternoon which was attended by Finance Minister Arun Jaitley and Bharatiya Janata Party President Amit Shah, triggering buzz that a major announcement is imminent.
Releasing a fact-sheet, Yechury argued that the CPI (M) and constituents of the LDF in Kerala have been at the receiving end of "murderous attacks mounted by the RSS and its outfits".
The Kerala Chief Minister also reminded him about Uttar Pradesh's track record in health.
Surrounded by a sea of supporters, he joined the padayatra launched by party president Amit Shah to raise the pitch against ruling CPIM's murder politics.
Senior BJP leaders taking out rally at Jammu on Thursday.
Shah has called for protests by BJP workers outside the CPI (M) headquarters in New Delhi every day till October 16. "If you try to threaten us, remember that we are always ready to take up such challenges", he said reacting to Yogi Adityanath's statements on Wednesday.
Kerala party chief told the media that Shah is scheduled to re-join the yatra on Thursday.