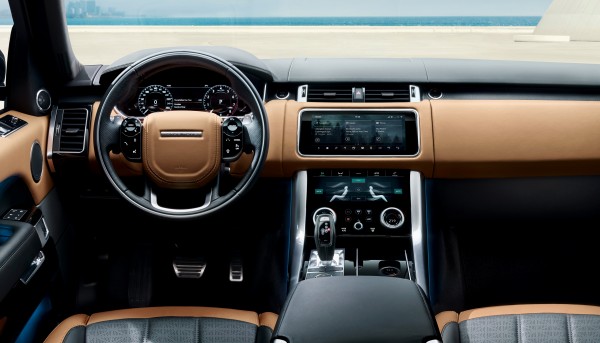 The highlights of the mid-life facelift, ahead of an all-new model arriving in 2020, are a hot SVR variant and a plug-in hybrid electric model.
Most stateside Range Rover Sport models will be fitted with either Land Rover's well-regarded 3.0-liter supercharged gas V6 (340 hp/332 pound-feet) or its 5.0-liter supercharged gas V8, the latter of which sees power nudge upward to 518 hp (from 510) and peak torque set at 461 pound-feet. The Range Rover Sport P400e PHEV costs from £70,800 and is available to order for delivery in early 2018. - Handout pic via AFP-RelaxnewsLONDON, Oct 4 - True to its word, Land Rover has started electrifying its range with the launch of the heavily updated and overhauled Range Rover Sport.
Called the Range Rover Sport P400e, the vehicle combines a 300 horsepower 2.0-litre, four-cylinder petrol engine with an 85kW electric motor producing 104 horsepower.
Performance claims for the newcomer include a 6.3 second dash to 60mph and 137mph top speed.
Coming as part of a raft of updates to the Range Rover Sport line-up, the 404PS plug-in version - dubbed the P400e in a new naming structure being adopted by the brand - claims a potential electric-driven range of 31 miles, 101mpg on the combined fuel cycle and 64g/km Carbon dioxide emissions.
Jeremy Hicks, Jaguar Land Rover managing director, said: "The current Range Rover Sport has performed exceptionally well in the United Kingdom market since it was introduced in 2013 selling just shy of 50,000 vehicles to date". There are two driving modes including Parallel Hybrid and EV modes.
Predictive Energy Optimisation (PEO) function - entering a destination in the navigation system enables the feature, which utilises in built GPS altitude data for the selected route, to intelligently combine the electric motor and petrol engine to maximise fuel economy. Three new alloy wheel options underline the Range Rover Sport's purposeful attitude, by accentuating its athletic stance. The previous four-cylinder Sport was already the wrong side of two tonnes; expect the addition of an 85kW electric motor and a 13.1kWh lithium-ion battery module to have done it no favours at all. The interior has also been reworked and the main feature is a pair of 10-inch touchscreens for the infotainment and vehicle control system that help create a more simplistic design. There are also 12 power points inside and two domestic plug sockets.