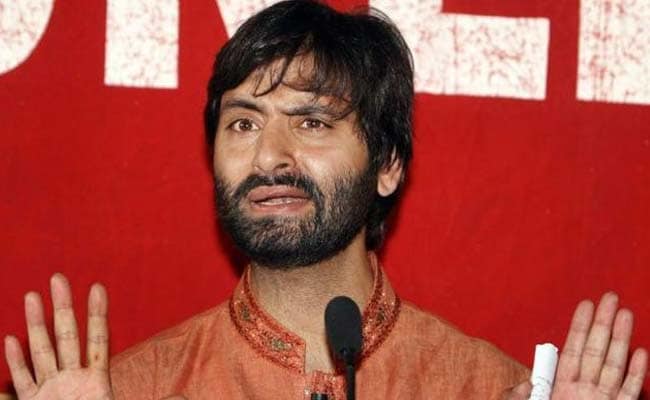 The residents of Shariatabad Budgam on thursday stormed into the residence of Aga Syed Hasan, senior Hurriyat leader where NIA slueths were conducting a raid and raised massive slogans against the investigating agency.
The NIA has recently been conducting raids and arresting people associated with the separatist leaders in connection with alleged money laundering and some other cases.
On Wednesday, the agency had raided 24 places in the Kashmir Valley and in Delhi focusing mainly on traders, who allegedly have links with the funding case presently under probe by the NIA.
The agency had in July arrested seven separatist leaders and a prominent local businessman in connection with the probe into the terror funding by Pakistan-based terrorist groups to stoke unrest in the valley.
The NIA sleuths seized FDs worth Rs 1 crore and other incriminating material during the raids and searches.
Qayoom on Wednesday appeared before the NIA in New Delhi.
Among those whose premises were searched include separatist leaders Ghulam Nabi Sumji and Syed Aga Hassan Budgami, both close to hardline separatist leader Syed Ali Geelani.
At around 8.00 PM, scores of Aga's followers gathered outside his house and at Imambara of Budgam and they held a strong protest against the NIA search operation.
Yet another NIA team carried out a raid on the residence of separatist leader Shabir Shah's close associate Zamir Sheikh at Nowgam Bypass. The disclosure by Khan led to NIA raids at several places in Delhi, Haryana, Jammu and Srinagar.
The NIA spokesman said offices of the Chartered Accountants of leading Kashmiri businessman Zahoor Watali, who is already under NIA custody, and residences of cross-LoC traders were also searched.
He added that searches are "still continuing" and "the suspects are being questioned about the incriminating recoveries made from them". The raids were also conducted on house of Firdous Iqbal Wani of Illahibagh Buchpora, Srinagar; Sajad Syed Khan of Ummarabad Zainakoote HMT Srinagar.
Syed Ali Shah Geelani, Mirwaiz Umar Farooq and Yasin Malik have announced they would take out a protest march to the NIA headquarters in New Delhi and court arrest on September 9.
A team of NIA also raided two residential houses in Kralpora area in Kupwara district.
The case was registered for raising, receiving and collecting funds through various illegal means, including hawala channels, for funding such activities.