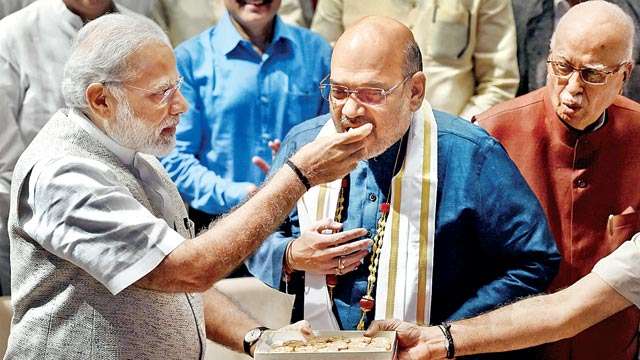 "The agreement with the people of Bihar, who had supported the grand alliance, was one of conscience", said Yadav after reaching Patna. "The sarkari (government-led) JD (U) is being run by Nitish Kumar and I am with the JD (U), which has the support of people of Bihar", he said on his way to Muzaffarpur for the first of a series of meetings.
On Thursday, Sharad told reporters that he would undertake a yatra (journey) across the state to speak to the voters.
Srivastava is a confidante of Yadav, who claimed later in the day that state chiefs of at least 14 of the party's total 22 units in the country are in their camp, against Kumar's decision. Yadav, who is in the state on a three-day tour, to hold "direct dialogue" with the people, expressed his unhappiness over Nitish joining hands with BJP to form a new government and dubbed it as "betrayal of the mandate".
The 70-year-old Yadav, now a sitting MP of JD (U) in Rajya Sabha, reached Patna amid a rousing welcome by hundreds of his supporters-both JD (U) and RJD workers.
Even though nothing is clear about Sharad Yadav's main objective, questions are being raised on his intent and what he wants to achieve.
The move had surprised everyone including the RJD and Congress party which had formed the grand alliance just twenty months earlier hoping to rule Bihar for the full term of five years.
"A vote is trust, promises made to people are a trust and if that trust breaks democracy will ruin", said Yadav. I consider it a responsibility to maintain my stand. Not only has the senior JD (U) leader been vociferous in his opposition to the NDA in the Upper House, but has also called a meeting of all like-minded Opposition parties on August 17.
Former Janata Dal (United) president Sharad Yadav on Thursday started a three-day public interaction in Bihar during which he will visit seven districts, including Patna, Muzaffarpur, Samastipur, Supaul, and Madhepura to meet people, including his supporters and mostly JD-U leaders and workers.
According to Sharad Yadav's loyalists, several party MLAs and MLCs are in touch with him. When party chief Bashishta Narain Singh was approached by The Indian Express to talk about the matter, he said it's a personal visit and the party doesn't have anything to do with it. "The party is now not concerned whether he is with us or not", Neeraj added. Sources said instructions have been issued to JD (U) functionaries not to participate in Sharad's yatra to avoid disciplinary action.