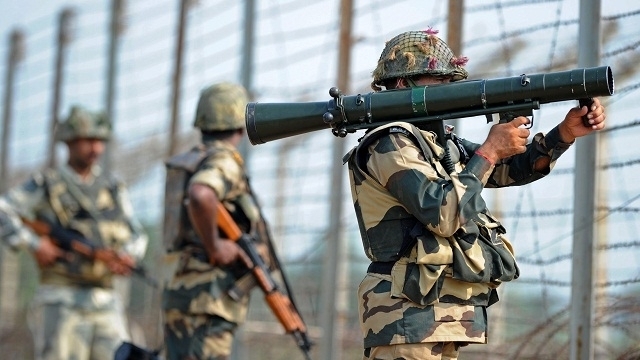 The Indian government on Saturday lodged a strong protest with Pakistan over the death of two Indian civilians in ceasefire violations by its troops along the Line of Control, Indian High Commission said. An Indian Defence Ministry spokesperson said Pakistan forces resorted to small arms fire around 4 a.m.
FO South Asia Director General Dr Faisal presented charge-sheet to the deputy high commissioner today.
The Indian Army is retaliating strongly and effectively to the firings.
Pakistan daily Dawn reported that "There has been heavy firing and shelling by Indian troops in different parts of Abbaspur and Hajira sectors since 5:30am, said Raja Tahir Mumtaz, the deputy commissioner of district Poonch".
Also on Sunday, Pakistan released 78 Indian fishermen in the southern port city of Karachi.
India has accused Pakistan of arming and training the militants, which Pakistan denies. As per NDTV Khabar, Indian forces have destroyed bunkers of Pakistani Army. Their three daughters were injured in the incident.
Srinagar/Islamabad: A young couple was killed by a mortar shell fired by Pakistani troops in a fresh ceasefire violation along the Line of Control (LoC) in Poonch district of Jammu and Kashmir on Saturday.
According to reports, two Pakistan soldiers and five civilians were killed, whereas almost 16 civilians have been injured in retaliatory fire by Indian troops.
The Indian envoy was told that "deliberate" targeting of civilians was condemnable and contrary to global human rights and laws.