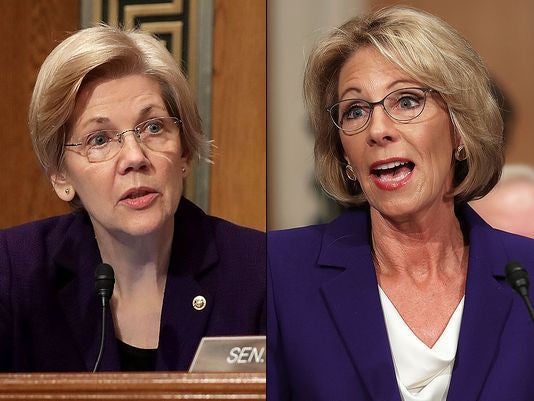 Both rules were made during the Obama Administration and were set to take effect July 1, 2017.
Education Secretary Betsy DeVos said Wednesday the department is establishing rulemaking committees to rework the gainful employment and the borrow defense to repayment rules.
"The Department of Education has an obligation to ensure that federal funds are never used to support fraud and misrepresentation by predatory for-profit colleges; yet once again, Secretary DeVos fails to understand or uphold the department's mission to protect all students".
The first rule requires for-profit colleges and certificate programs at all non-profit colleges to prove their degrees lead to gainful employment.
"Providing choices to parents promotes increased involvement in their children's education and empowers them to seek out the schools and services that best meet their children's unique educational needs-no matter their zip code, the color of their skin, their family's income, or their own educational backgrounds", she told the Senate Appropriations Subcommittee on Labor, Health and Human Services, Education and Related Agencies last week. The challenged regulations provide critical protections for federal student loan borrowers against misconduct by abusive schools and colleges, including for-profit companies, and assist in the enforcement of state consumer protection laws. That part of the rule was implemented early to help Corinthian students, specifically. The Education Department is processing 16,000 claims for relief. "Unfortunately, last year's rule-making effort missed an opportunity to get it right".
The California Association of Private Postsecondary Schools, a trade group, is challenging the rules, arguing that they make it too easy for students to claim fraud so that they can get their loans discharged and that the rules would harm the industry.
Several lawmakers and observers saw the department's withdrawal of the borrower-defense rule as unfairly tipping the scales in favor of for-profit colleges.
A group of nine Attorneys General, all Democrats, filed a motion this week to intervene in the lawsuit.
Speaking to an audience of charter school educators and supporters Tuesday, DeVos urged them to keep innovating rather than becoming another complacent generation of education bureaucrats.
"Delaying this important pathway to debt relief would harm thousands of students, many with crushing levels of student loan debt and few meaningful job prospects", read a letter signed by Senators Elizabeth Warren, Patty Murray, Sherrod Brown and Dick Durbin.
Senator Manchin expressed his concern about the significant cuts to the Department of Education and its effects on schools, students and families in West Virginia.